Crash Data Retrieval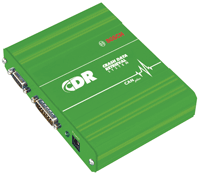 The BOSCH Crash Data Retrieval (CDR) System can access data contained in the airbag control modules and power control modules of vehicles that are supported by the technology, which has been operating in North America since 2000 and is now in Australia.
Bosch is considered the world leader in Event Data Recorder (EDR) information and imaging technology. Their CDR products are trusted internationally by law enforcement, crash researchers, auto manufacturers and government agencies to access Event Data Recorder (EDR) information on a wide range of passenger cars, light trucks and SUVs.
Some of the available crash data can include pre-crash speed, engine throttle, brake use, impact acceleration, measured changes in velocity (delta-V), safety belt use, airbag warning lamp status and airbag deployment times.
Understandably, crash data is very valuable information for investigators. However its use and application is not just limited to the vehicle containing the data. For example, in situations where two vehicles are involved in a crash and only one supported by CDR, information such as impact acceleration or delta-V data from the supported vehicle can be used to resolve the impact speed of the non-supported vehicle.
AIS are accredited download technicians and analysts for interpreting and analysing crash data obtained from the Bosch Crash Data Retrieval (CDR) System. We are equipped to undertake immediate crash scene downloads from supported vehicles and/or bench downloads from removed airbag control modules.
Please contact us if you need assistance with CDR or if you would like to know more information on this subject.
Also see our Black Box Recorders page.